CAPITAL : Lettre ouverte solennelle des fidèles aux quatre évêques de la FSSPX
http://www.virgo-maria.org/articles/2006/VM-2006-10-10-A-00-Appel_aux_quatre_eveques_de_la_FSSPX.pdf
Qui et Pourquoi, depuis la mort de Mgr Lefebvre en 1991, a détourné la finalité surnaturelle de l'OPERATION-SURVIE des sacres de 1988, pour assigner à la FSSPX ce FAUX objectif prioritaire de la «ré-conciliation» avec la Rome conciliaire
(en fait la «ré-conciliarisation» de la FSSPX) ?
Qui a, depuis 2000, PROMU, et Pourquoi, le FAUX préalable de l'autorisation de la messe de Saint Pie V ?
Pourquoi n'a-t-on pas posé la VRAIE question du rétablissement du VRAI Sacerdoce de VRAIS prêtres, ordonnés par des Evêques VALIDEMENT sacrés selon le rite VALIDE des Saints Ordres ?
Qui a INVENTE, et POURQUOI, le faux préalable de la levée des «excommunications» ?
Pourquoi n'a-t-on pas posé la VRAIE question de l'abrogation de Pontificalis Romani INVALIDE de 1968 et du rétablissement du vrai rite de la consécration épiscopale VALIDE d'avant 1968?
A quoi servirait-il, en effet, de faire dire le VRAI rite de la messe par de FAUX prêtres ?
Serait-ce donc qu'après avoir obligé de VRAIS prêtres à dire une FAUSSE messe, l'on veuille désormais faire dire la messe du
VRAI rite par de FAUX prêtres ?
Serait-ce que l'on veuille «concilier» les VRAIS prêtres qui disent encore la VRAIE messe avec un clergé aussi INVALIDE que le
FAUX CLERGE ANGLICAN ?
Gaude, Maria Virgo, cunctas hæreses sola interemisti.
(Tractus Missæ Salve Sancta Parens)
Tuesday, February 24, 2009
This message can be downloaded in PDF format on our site http://www.virgo-maria.org/.
SCOOP ! SSPX faithfull in Paris rebel against Vatican II
and the selling out of the SSPX to Rome led by bishop Fellay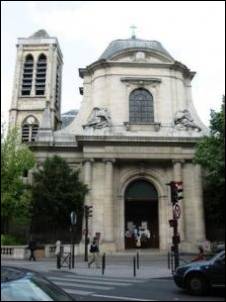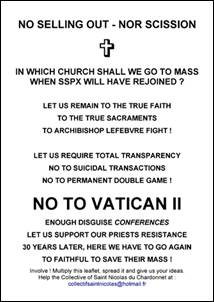 Thousands of leaflets have been distributed in the church Saint Nicolas du Chardonnet (Paris)
on Sunday, February 21st, 2009
collectifsaintnicolas@hotmail.fr
The laymen are now upset by the situation of the SSPX, and they are rebelling in the French parish against the selling out of SSPX to Rome led by Bishop Fellay, because of the lukewarm priests hypnotized by Benedict-Ratzinger and the false "processus" with New Vatican, followed by the Superior of the SSPX.
Since 32 years, never such an event occurred.
This is an earthquake in the SSPX.
The laymen do not anymore trust Bishop Fellay and his secret policy, his "enlighted" speeches about the disguise of the phony-"miracles" of the two sacrilegious Rosary "Crusades"
Bishop Fellay was already bamboozled in the past by Mrs Cornaz, a false mystic[1].
Faithfull do not accept anymore lies and stupid childish under-minded stories about the lift of "excommunications".
They want to continue the fight of Archbishop Lefebvre against Benedict-Ratzinger and Vatican II and their heresies.
They want to save their souls et the souls of their children.
They want to keep valid sacraments
Let us continue the good fight
The editorial staff of Virgo-Maria
© 2009 virgo-maria.org
---
NO SELLING OUT - NOR SCISSION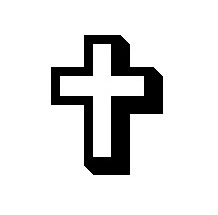 IN WHICH CHURCH SHALL WE GO TO MASS WHEN SSPX WILL HAVE REJOINED ?
Let us remain to the true faith
to the true sacraments
to Archibishop Lefebvre fight !
Let us require total transparency
No to suicidal transactions
No to permanent double game !
NO TO VATICAN II
enough disguise conferences
let us support our priests resistance
30 years later, here we HAVE TO go again
to faithful to save their mass !
Involve ! Multiply this leaflet, spread it and give us your ideas.
Help the Collective of Saint Nicolas du Chardonnet at :
collectifsaintnicolas@hotmail.fr
____________
To subscribe or unsubscribe to Virgo-Maria's Newsletter, please fill the form available on our site http://www.virgo-maria.org/